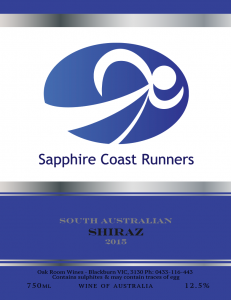 Help support Sapphire Coast Runners by buying our very own Sapphire Coast Runners labelled wine in our 2018 wine fundraising campaign.
Sapphire Coast Runners Inc. will earn $40 for every 12 bottles sold during the fundraiser, which will assist the club to continue to stage local running events.
Orders will be delivered directly to Merimbula NSW 2548 for collection from 26 March 2018 – PLEASE select FREE Pickup at Checkout).
Shipping direct to your door is available for online orders only at additional cost and calculated at checkout.
Please contact your fundraising organiser Donella Ph 0404 427 457 if you require any further information.
Orders close Wednesday 14th March 2018 with pick-up & deliveries commencing approximately 26 March.